Pay Per Click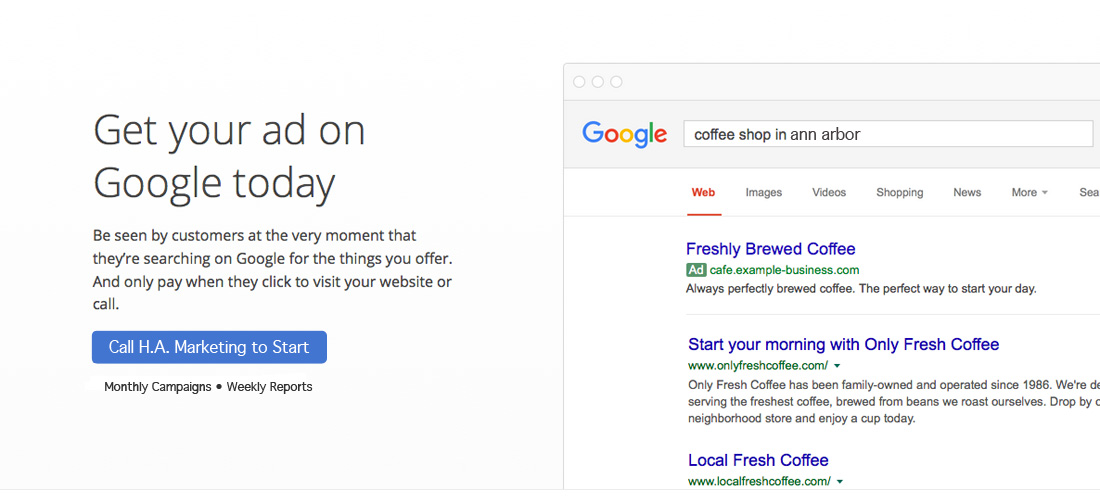 Why Google AdWords?
Attract more customersWhether you're looking to bring in new website visitors, grow online sales, get the phones ringing or keep customers coming back for more, Google AdWords managed by H.A. Marketing can help make it happen.
Reach the right people at the right time Your business gets found by people on Google precisely when they're searching for the things that you offer.
Advertise locally or regionally Target your ads to customers in certain towns, regions, states or within a set distance from your business or trade area.
No click, no feeYou only pay when someone clicks your ad to visit your website, or calls from AdWords click-to-call. Basically you pay when your advertising is working.
Start with any budgetYou set your own budget, so your costs will depend on what you are trying to accomplish with your advertising. Some businesses spend thousands of dollars a month, and others are comfortable investing several hundred, you determine your budget and we'll handle the rest.
Need a mobile friendly site to startIf you don't have a mobile friendly website or a website at all we recommend having H.A. Marketing create one for you loaded with content that Google likes to serve-up in searches. You can throw money at an AdWords campaign and miss out on clicks because Google ranks your site and is in the business of serving up mobile-friendly sites with relevant content. We'll build you an optimized site that is search engine friendly which will maximize your PPC program and overall organic search results. Let's get started!
Contact H.A. Marketing to receive a free consultation.